The 12 Pillars of Christ-Centered Recovery
PAR does not use the AA 12-steps or a Christian version of their steps, but a totally Christ-centered, scriptural-based process of recovery.
OUR BROKENNESS:

We admitted that in and of our own strength we were powerless over addiction. We realized that if we were to have victory over addiction, humility was a must. We had to abandon our prideful self-sufficiency right from the start. Psalm 51:17
OUR HOPE: We came to believe that Jesus Christ was the only one who could restore us to sanity, wholeness, and right relationship with God. 2 Timothy 1:7

OUR SURRENDER:

We completely surrendered to God through humble repentance at the cross of Christ, receiving and declaring Jesus as Lord, Savior, and Redeemer, submitting our will and lives to Him. For some of us this was the first time we had genuinely surrendered with all our heart despite our religious background. Galatians 2:20 

RIGOROUS HONESTY:

We, through the guidance of the Holy Spirit and the Word of God, commenced on a bold inventory of the true characteristics of our carnal sin nature that had ensnared us in addiction, blinding us from our true identity in Christ. It was time to expose the lies of the enemy. Psalm 139:23-24

HUMILITY:

We thoroughly examined with our PAR Mentor the patterns, rituals, and characteristic our sin nature which had dominated our lives, weighing them in the light of our true identity in Christ. It is here we began breaking spiritual strongholds, toxic soul ties, and the shame we had carried so long. James 5:16

OUR RECONCILIATION:

We renounced our former lifestyles and abandoned the worldly carnal wisdom which we formerly clung to and affirmed that the Word of God was our final authority against which we measured all other claims in addiction recovery. 2 Corinthians. 4:1-2

OUR RESTORATION:

We gratefully received God's forgiveness with joy, having full confidence in the redemptive work of Christ. God was now taking the shameful and tragic experiences of our past and redeeming them into a testimony of His goodness, mercy, and hope for those still in bondage. 1 Corinthians 6: 9-11 

INTEGRITY:

We made a list of all persons we had harmed and became willing to seek their forgiveness and make amends to them. We were no longer a slave to fear. We were no longer compelled by shame and condemnation, but by the love of God in Christ Jesus. Psalm 51:10 

COURAGE:

We humbly made direct amends to such people wherever possible, being careful to seek wise Biblical counsel and the counsel of the Holy Spirit concerning each person that no harm be done to others in our efforts. Matthew 5:23-24

MATURITY:

We continued to mature, allowing the Holy Spirit to search our heart and intentions, and when wrong we promptly admitted it and repented of it. We realized that our walk was no longer just about us. We realized that our walk in Christ centered recovery impacted the lives of others. Eph. 4:22-24 

BEING A DISCIPLE OF CHRIST:

We continued to mature and grow spiritually through consistent study of God's Word and fellowship with other believers in the body of Christ, seeking daily the guidance of the Holy Spirit in doing the Fathers' will in service to Christ and those seeking addiction recovery. Psalm 25:4-5

BEING AN AMBASSADOR FOR CHRIST:

Having been restored to wholeness and right relationship with God mentally, emotionally, and spiritually, we sought to carry HIS message of hope and our personal experience of healing and restoration to those still suffering in addiction. We honestly endeavored to be faithful stewards of the gift of Christ-centered recovery that we had been freely given and to share it freely with others. Isaiah 61:1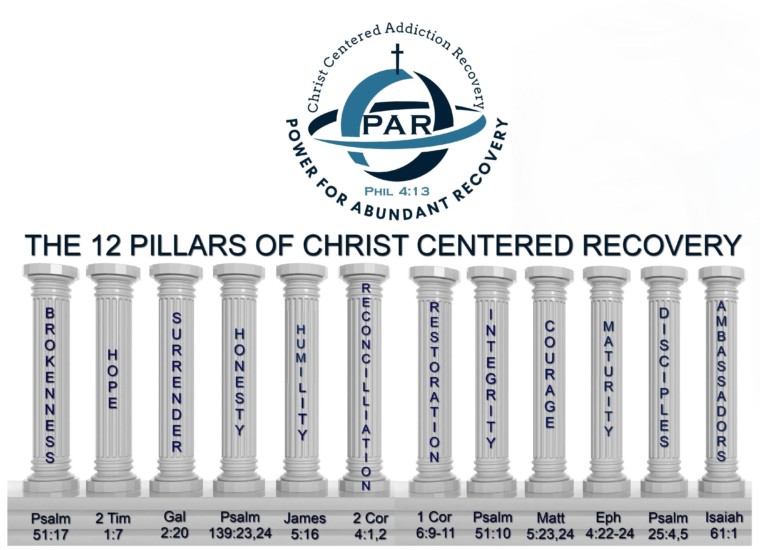 Fellowship – Discipleship - Leadership
The PAR 12 Pillars of Christ-centered recovery are the sole property of PAR Ministries.
Any use of this material is prohibited without the written consent of Power for Abundant Recovery Ministries National Headquarters. For further information email at info@abundantrecovery.org or call 1-966-PAR-8179.